The Johnson County Animal Shelter Adoptable Pet of the Week is brought to you by Copy Cats Printing Company!
Attention brides-to-be! Did you know Copy Cats Printing Company can design and print your wedding invitations?  Stop by Copy Cats Printing Company today and register to win 50 wedding invitations!  They're located in the Mayo Plaza in Paintsville next door to Castle's Jewelry & Gifts.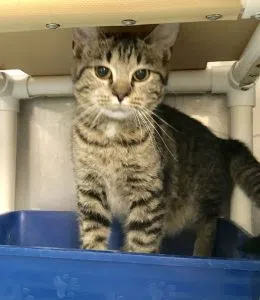 This week's adoptable pet is Nibbles! Nibbles is a sweet grey tiger stripped cat who is about one year old.  She does great with other cats and she's litter trained.  Plus, she's up to date on all of his shots.
If you'd like to give Nibbles a home feel free to call 297-PETS or stop by the Johnson County Animal Shelter on Shelter Way just off US-460 between Paintsville and Salyersville.